Chapter Spotlight: Archive
Chapter Spotlight
Coastal Connections through Service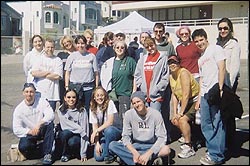 Slippery Rock, Pennsylvania, and Santa Clara University, California—what could these two places have in common? A service project: cleaning up one of the neighborhoods in San Francisco through the San Francisco Clean City Coalition on Saturday March 6, 2004.
Some of the members of the Sigma Tau Delta chapter at Slippery Rock in Pennsylvania, by faculty sponsors Bob Crafton and Erica Scott, flew across country for a week of various service projects in the San Francisco Bay Area during their Spring Break week (Care Break is how they refer to this week of service).
Dr. Crafton contacted the faculty sponsor at Santa Clara University, Simone Billings, to see whether any members of the Sigma Tau Delta chapter there wanted to get together for one service project, the first one on their first full day in California. Because Santa Clara was about to begin its final week of classes for winter quarter, only a few could drive the 50 miles up to San Francisco to join in the morning of picking up trash in the gutters and cleaning away overgrown foliage in the public portions of the streets—too many English papers to write for that final week for some others!
But over the burrito and tortilla chips lunch provided after the morning of cleaning, the Slippery Rock and Santa Clara students and sponsors paused their chatting for a photo op of the entire group. And Dr. Billings and one of the students agreed to exchange hooded pouch sweatshirts from their respective schools at the convention in Daytona Beach, so soon thereafter Autumn Brown or Sarah Cashdollar will be walking around the Slippery Rock campus wearing an SCU sweatshirt while Billings in California will be walking around with a cool Slippery Rock sweatshirt. Members from both chapters will be looking forward to seeing each other in a few weeks in Daytona Beach.

Submitted by Simone Billings
With Help by Catherine Quevedo and Bob Crafton