Chapter Spotlight
Sigma Tau Delta Chapter in Montenegro
December 2007 - Acknowledging and inspired by the objectives of the Sigma Tau Delta English Honor Society, "to promote literature, writing, and advance the study of the written word," twelve Montenegrin students of English Language and Literature formed its first branch in the Balkans, receiving the chapter name Alpha Xi Chi.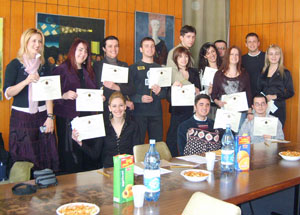 Sigma Tau Delta found its place in the small mountainous town of Niksic, at the Faculty of Philosophy, University of Montenegro, in 2007. Faculty sponsors of this project were Professor Ginger Jones (who gave an introductory speech at the inaugural ceremony) from Louisiana State University. Jones was a member of Sigma Tau Delta in her college days, and was happy to recruit more members to the organization. Also present was Professor Marija Kneevic (head of the English department and Professor of English literature) and Professor Aleksandra Nikcevic-Batricevic (Professor of American literature). At the inaugural ceremony, new members, Peda —pins—with the Sigma Tau Delta symbol, an opportunity to present their creative and academic work, written especially for the occasion.
To inform the general public that international student honor societies meet in Montenegro, public TV appearances were made in Niksic by members of the newly formed Sigma Tau Delta chapter. Third year students Nikola Kasalica and Boris Malidzan represented Sigma Tau Delta on the local TVNK talk show, Delta, while Professor Knezevic, Petar Bozovic and Ana Ponos spoke about the new honor society on the national television channel RTCG1.
As far as the projects go in 2007, Sigma Tau Delta members launched a series of literary nights at the Faculty of Philosophy, creating a meeting place where English majors can present their works.
On the first of these literary nights, students Mirjana Zivanovic and Nikola Kasalica shared their talents. Mirjana read her poems in dialogue with Ana Maslovaric, and Nikola introduced his short stories, including a Slavic gothic story entitled "A Dead Letter." The works of these young writers earnestly revealed the paradoxes of modern times by touching on often painful experiences familiar to all of us. The literary evening was a great occasion.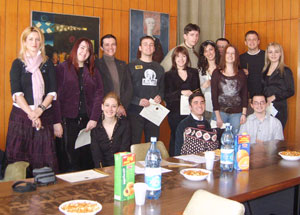 During the second literary night, Vesna Bozovic and Tanja Bakic were invited as guests to participate in an interactive lecture that was so successful, members decided it will be a permanent part of the evenings. Discussion topics varied from the religion and culture of Indian civilization to the connection between William Blake, the great English poet, and Jim Morrison, the famous American musician. Ms. Bakic illustrated the influences of both artists in her own work. Students were allowed to ask all sorts of questions concerning the lives of Ms. Bozovic and Ms. Bakic. The evening was another successful one for Sigma Tau Delta!
Trip to Slovenia
On June 23 through July 8, 2007, Sigma Tau Delta members attended the international summer school seminar Cosmopolitanism and the Global Community—Reading Foreign Cultures conducted by the English Department at the University of Maribor in Slovenia. Beside the interesting lectures, the school can boast of its excellent organization and friendly atmosphere, so that Sigma Tau Delta members came home richer not only for an international experience, but also with an understanding of the need for greater connectedness between young people.
Jongleur 2007
Jongleur, a magazine edited by Sigma Tau Delta member Aaron Tiffee at LSU Alexandria, published a variety of works by our members ranging from lyrical poems to scholarly essays.
Bloomington
Sigma Tau Delta from Montenegro had a representative at Muse, an international conference held at Wesleyan Illinois University in October 2007. Petar Bozovic presented his paper "A Descent into Conrad's Inferno."
"You Can Make the Difference"
On November 14th through the 17th, 2007, Sigma Tau Delta members actively participated in a humanitarian attempt to help abandoned children living in Montenegro. Organized by Professor Nikcevic-Batricevic, members visited an orphanage, giving gifts of toys and time to the children there.
Visit to Louisiana
Thanks to the generous efforts of Professor Ginger Jones and with the help of LSU Alexandria, the members of Sigma Tau Delta in Montenegro plan to visit two American aboriginal tribes, the Adai and Tunica-Biloxi from Louisiana, and learn about their culture and costumes.
The First International English Language and Literary Conference for Students
 Sigma Tau Delta in Montenegro has planned an international conference for students, entitled Brave New Word. The conference is to take place at the Faculty of Philosophy, Niksic, Montenegro, on May 9, 2008. All undergraduate students are invited to present papers that deal with new approaches to English language, literature, teaching, or cultural phenomena in general, to give new perspectives of traditional issues, or discuss once groundbreaking readings given by well-known writers. The focus is truly on any subject that might apply to living in our brave new world. We are deeply honored that Professor Svetozar Koljevic of the University of Novi Sad has agreed to be the key-note speaker. Professor Koljevic, author of The Epic in the Making (Oxford, 1980), is well-known for his expertise in literary history.