2012 Convention Stories
Sigma Tau Delta Rocks: Sigma Tau Delta 2012 International Convention Reflections
by Bob "Chaos" Durborow
Far Western Associate Student Representative, 2012-2013
Alpha Eta Nu Chapter
Southern Utah University, Cedar City, UT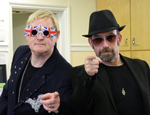 2012 was a good year.
The Big Easy greeted this pen pusher
with open arms, steamy weather and étouffée,
while Sigma Tau Delta provided awesome authors,
critical theory, touching tales, and potent poetry.
I laughed, I cried, I ate the cupcakes,
met new friends from there and here,
gained new appreciation for the color black,
fedora hats, walking sticks,
and the brother/sisterhood of poets,
that crosses state lines, gender, race,
acknowledging no bias or boundary,
taking all comers and touching their creative core.
Internal batteries recharged,
in the warm glow of acceptance,
sincere admiration (scarcely deserved),
common purpose and love of language,
the printed word shaped and molded,
into scene and scenario,
eloquence defined in sibilant syllables,
magnificent metaphors, delicious dichotomy.
Memories made by the banks of the Big Muddy
laced with ghostly strains of Jazz and Blues,
will fade when my familiar western breeze
reduces red rock to red sand,
sources of inspiration and camaraderie
to dwell in the vault of my mind,
where I keep shiny things of little real value
to anyone but me,
and those who share my expectations.
Parting was such sweet sorrow,
though short lived, as
my Facebook page exploded
while I slept away the flight home.
Of greatest import, as I reflect,
stand the knowledge I am not alone...
...I'm really not alone...
more than a thousand fellow writers
representing two hundred chapters proved,
"The pen is mightier than the sword,"
(though we need a better way to express the concept).
Sigma Tau Delta, despite its accidental acronym,
needs no cure,
cupcakes are good...
...but there is little to compare
to a good FEAST.