Application Essay Prompts for 2017-2018 Academic Year
Describe a time in your life when you have faced a restriction to your own freedom. In what ways was confronting, accepting, challenging, or even overcoming that restriction a learning experience for you?
 


Language is a powerful tool of liberation. What role has the study of language, literature, and/or discourse played in your understanding of that power?
Printable Downloads [PDF]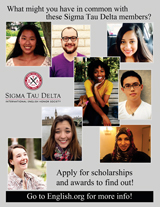 Scholarship Flyer (pictured above)
Blogs