Meet the Student Advisors
Samantha Miller
The College of New Jersey
Ewing, NJ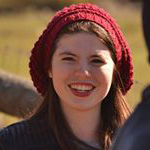 Samantha Miller, a junior at The College of New Jersey (TCNJ), will complete her English Secondary Education degree with a Classical Studies minor in May 2017, and intends to pursue an MA in English the following year. Sam has been an active member of the literary and theatrical communities on campus since freshman year, and recently has presented at her first Sigma Tau Delta International Convention. She also is a member of ink, TCNJ's creative writing club, and on the executive board of Alpha Psi Omega National Theatre Honor Society. Though she enjoys exploring many topics in literature, Sam is particularly interested in intertextuality, the cultural impact of texts, and classical allusions. Some of her favorite texts include The Secret History by Donna Tartt, God of Small Things by Arundhati Roy, and Shakespeare's A Midsummer Night's Dream.
Sam is incredibly excited to begin her term as Student Advisor and looks forward to working with Tim and the rest of Student Leadership as they continue to develop and create opportunities and experiences for Sigma Tau Delta as a whole.
DeAndra Miller
Minot State University
Minot, ND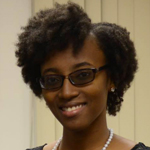 DeAndra Miller is a junior English Education Major who hopes to pursue an MFA in Creative Writing. When not serving her Phi Chapter of Sigma Tau Delta as Vice President, DeAndra keeps busy as the Executive-At-Large of the Beta Theta sorority, where she participates in various philanthropic events and chairs the campus events committee. DeAndra also works on expanding her writing abilities as a reporter on her school's newspaper, The Red and Green. DeAndra enjoys reading, writing creative non-fiction and short stories, and she hopes one day to revive her school's literary journal The Coup. DeAndra's favorite genres are Romantic and Victorian British Literature; her favorite books are Pride & Prejudice by Jane Austen and The Picture of Dorian Gray by Oscar Wilde; her favorite poem is "Kubla Khan" by Samuel Taylor Coleridge. When she is not reading or writing, DeAndra enjoys playing video games and spending time with her husband and three boys.
DeAndra is honored to serve as a Student Advisor for Sigma Tau Delta; she is eager to advocate for Society members and hopes her position will inspire more representation for the High Plains region.
Posted 04/2017