Meet the Student Advisors
Kelsey Hixson-Bowles
Kansas State University
Manhattan, KS
Email: sigmatd.sa1@gmail.com
Kelsey Hixson-Bowles has one more year of her English degree at Kansas State University (K-State). Her focus is in creative writing but her interests span from entrepreneurship (her minor) to knitting. Kelsey spent two years as a resident assistant and a year as the President of the K-State Alpha Theta Eta Chapter. She's a writing tutor and working on creating a writing fellows program at K-State. After graduating, Kelsey plans to work toward an M.F.A. in Creative Writing. She would like to pursue a profession in academia as a professor and/or writing center director. 
After working to expand the K-State chapter, Kelsey decided to serve as a student leader to apply what she learned to the High Plains Region. Her goals for the year include bringing more chapters to the convention and enhancing inter-chapter communication. 
Katherine Williams
Arkansas Tech University
Russellville, AR
sigmatd.sa2@gmail.com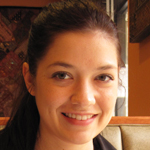 Katherine Williams is a master's student at Arkansas Tech University, pursuing a Liberal Arts degree in Communications. She graduated from Arkansas Tech in 2011 with a B.A. in English, a B.F.A in Creative Writing, and a Film Studies minor. Her fields of interest include film theory and animal studies. Her ultimate dream is to be a "professional student" and to travel. She enjoys vegetarian cooking, running, and watching episodes of Mystery Science Theater 3000.

Since joining Sigma Tau Delta in 2009, Katherine has participated at the regional and Society levels, serving as Chapter President, Southwestern Associate Student Representative (2011-2012), Southwestern Student Representative (2012-2013), and currently as one of the Society's two Board-appointed Student Advisors (2013-2015).