Chapter Spotlight: Archive
Chapter Spotlight
Omega Phi (Oklahoma City University)
Oklahoma City University's Omega Phi chapter has placed its post-regional conference focus on the service aspect of Sigma Tau Delta. The chapter has participated in two service projects and has attended a tolerance forum with Erin Gruwell and the Freedom Writers.
Omega Phi took part in Habitat for Humanity's "Shack-A-Thon" on November 7, 2003. In keeping with the Southwestern region's conference theme of "Verisimilitude," the Omega Phi shack was designed like an upside-down "V" to represent an open, inverted book. Omega Phi raised $88.86, placing second place in the People's Choice Awards wherein people "vote" by placing coins in a particular organization's bucket. Fourteen campus organizations participated in this event, raising a combined total of $1,339.83 (including donations).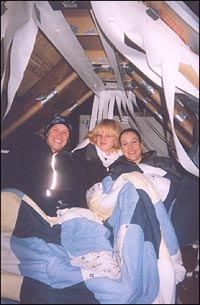 Habitat for Humanity has sponsored its Shack-A-Thon event on campus for the past four years; this year marks Omega Phi's second year to participate. Omega Phi won second place in last year's event as well. Over $5,000 has been raised to date by Oklahoma City University organizations as the local Habitat chapter works towards its goal of $40,000 to build an OCU-sponsored Habitat house. In an effort to drive home its point, Habitat's Shack-A-Thon requires its participants to build and, very temporarily, live in a cardboard shack.
Omega Phi members who hosted the Habitat Hobbit Shack while everyone else was inside, warm and snug at the regional conference pizza and movie party, were Lauren Phelps, Autumn Souders, and Brittney Cowan. The trio also stayed in the Shack, in the rain and cold, until the required cut-off time of 2:00 a.m.
In December, Omega Phi worked in conjunction with OCU's Catholic Student Union to raise "Pennies for Peace" in an effort to bring drinking water to war-torn countries. Spurred into action by a Catholic Student Union flier asking for assistance from other campus organizations, Omega Phi set up water pitchers in the library and in the English tutoring lab on campus to collect spare change. Matt Randall and Kelly Smith also visited faculty and staff offices with their pitchers to encourage donations. A total of $38.23 was raised the hard way: one penny at a time.
January found Omega Phi attending a forum on tolerance featuring Erin Gruwell and The Freedom Writers. Kristina Brooks, Chantal Grunert, Donna Gregory, and sponsor Dr. Terry Phelps had the honor of meeting the group of twenty-five intrepid students who, when written off by the public educational system in Los Angeles, rose above their race, social, and economic differences to empower themselves through writing. By encouraging anonymous and shared journaling on a computer in her high school classroom, Ms. Gruwell was able to demonstrate to her students that everyone in the class had more in common than any of them thought.
The impetus for the journaling project was a racial caricature of a student that was passed around the class and intercepted by Ms. Gruwell. In discussing the negative impact of such work, Ms. Gruwell discovered that not one of her students had heard of the Holocaust. They all had been shot at, however. Out of her frustration, Ms. Gruwell introduced her class to The Diary of a Young Girl by Anne Frank, and the journaling project was born.
Combining the serious with the silly, Ms. Gruwell led the forum group in a game of "know your neighbor" in which everyone formed a circle around the room. Various questions were asked; if a question applied to a participant, that individual was required to step into the middle of the circle. The game proved to be a powerful tool in showing everyone that no one is truly alone. At no time was there only one person in the circle. Some of the questions asked were "Have you ever been in the back of a police car?," "Who thinks Tony is hot?," "Who has had a family member ever convicted of killing another family member?," "Who has buried a friend lost to violence?," and "Who had misconceptions about Oklahoma before this forum?"
The Freedom Writers' diary entries were published in 1999 in a book called The Freedom Writers Diary: How a Teacher and 150 Teens Used Writing to Change Themselves and the World Around Them. Several of the students, now in college, shared their personal stories with the group. Omega Phi members were humbled by tales of gangs, drug use, rape, murder, and hate. Those in attendance walked away with an overwhelming respect for the Freedom Writers, Ms. Gruwell, and their project.
More information on Ms. Gruwell and the Freedom Writers is available online. Omega Phi would like to encourage everyone to take a few minutes to visit the site and share in this inspiring story.
Submitted by Donna Gregory