Chapter Spotlight
Alpha Nu Rho's Journal and Newsletter Accomplish their Mission

September 2008 - The beginning of many new and exciting ventures is underway for Alpha Nu Rho. Alpha Nu Rho is Cheyney University's chapter of the International English Honor Society, Sigma Tau Delta. Chartered on December 31, 2005, Alpha Nu Rho's mission is to "promote excellence in the field of English among all students, to provide opportunities for learning and growth in areas related to the field of English, to engage in community service projects related to the field of English, and to engage in fundraising to support Alpha Nu Rho's activities as well as to promote Alpha Nu Rho and Sigma Tau Delta." Setting out to do exactly that, Alpha Nu Rho recently completed two of its most prized projects: a literary arts journal and an e-newsletter.
In April of this year, Alpha Nu Rho celebrated the publication of its first literary arts journal: Alpha Nu Rho's Literary Voices. The journal contains a creative, colorful mixture of scholarly writing, nonfiction, chapter excerpts, short stories, flash fiction, poetry, and cover art by students. Months before the journal was implemented, members of Alpha Nu Rho voted on and approved the founding of the journal and set forth to turn the idea into reality. Shortly thereafter, Alpha Nu Rho members created and distributed a flyer to the Cheyney community, by electronic mail. The flyer outlined rules and guidelines that each submission had to follow in order to be selected and showcased in the journal. In all, the journal featured the works by seven different students. Praise and recognition ensued soon after the journal was released for sale and featured in the campus newspaper Vital Communications. The journal's achievements inspired the theme for Alpha Nu Rho's celebratory meeting in April.
On August 13, 2008, Alpha Nu Rho unveiled its first e-newsletter to the Cheyney community. Members of Alpha Nu Rho worked hard all summer long to fulfill the newsletter's purpose "to share with the Cheyney University community news about Alpha Nu Rho and to promote excellence in English to all students by providing news related to the field of English." The newsletter received compliments, and it generated a newfound interest in Alpha Nu Rho from non-members.The combined success of Alpha Nu Rho's journal and newsletter is promising. The success demonstrates that the Cheyney community appreciates and supports Alpha Nu Rho's endeavors. These accomplishments are quite remarkable for Alpha Nu Rho's size. Clearly, one should never underestimate the magnitude and impact that a small group of people can have on many because great things do come in small packages.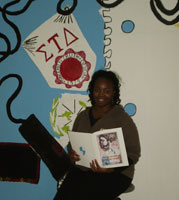 Emma Ward, Alph Nu Rho
Public Relations Officer
Cheyney University, Cheyney, PA,