Chapter Spotlight
Hastings College: One Fun Event after Another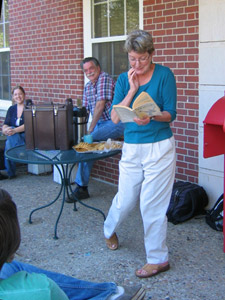 February 2008 - Despite the bitter cold of mid-February in Nebraska, love was blossoming in the Hastings College student union on Valentine's Day. The Alpha Alpha Psi chapter of Sigma Tau Delta set up a booth and sold fresh roses with a variety of love sonnets attached. Among the sonnets were Alfred Lord Tennyson's "If I were loved, as I desire to be;" Amy Lowell's "To a Friend;" William Shakespeare's "Sonnet 60;" and a popular "How Do I Hate Thee?" parody by Stanley Sharpless of Elizabeth Barrett Browning's "How Do I Love Thee?" Our romantic intentions—expressed in quatrain—were:
Roses are red, violets are blue;
Everyone loves a sonnet or two.
Go out and spread our lyrical disease,
Giving roses and sonnets, but not STDs!
We are currently revving up for February 21st, when author Richard Rodriguez will speak on our campus. Rodriguez is a regular contributor to many newspapers and magazines, such as Harper's and the Los Angeles Times, and he is author of Hunger of Memory: The Education of Richard Rodriguez; Days of Obligation: An Argument with My Mexican Father and Brown: The Last Discovery of America. Hastings College frequently hosts writers and literary events (such as the 2007 Nebraska Writers Guild Conference last October), and we are pleased to support these events by assisting at the functions and receptions, and by mingling with the guests
March is Women's History Month, and we plan to host a campus-wide reading for the occasion, much like our annual Banned Books Week reading in October, during which students and faculty gather in front of Perkins Library to read selections from their favorite banned literature, engage in a raffle, and partake in refreshments. Next year, we plan to take the Banned Books Week reading up a notch by incorporating an edible books contest: participants will create culinary concoctions based on their favorite banned books. For example, one might fashion an orange cake depicting the face of a clock—voilá: A Clockwork Orange! Stand by for an update next fall on what was more exciting: the delicious treats or the celebration of groan-worthy puns.
Halloween Reading - a costumed Meghan Cochrane wins a children's horror book in the raffle.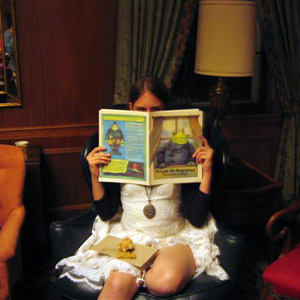 Each year, our readings such as these grow in popularity among the general student body at Hastings College. Our chapter collaborated with Perkins Library to start a Halloween reading tradition in 2006.The first year, we gathered to hear Jim Fritzler, Associate Professor of Theatre Art and Sigma Tau Deltan, read dramatically disturbing tales of murder, bunnies, and naked people in the woods. Last year, we expanded the readers to a small group of students and faculty, included a raffle of Halloween treats and classic horror books, and announced the winners of a pumpkin-carving contest.
We are a small but active chapter. And like all Sigma Tau Deltans, we are a creative bunch; we are always bouncing around ideas for new activities. No doubt we are silly at times, but we are also seriously excited about the excellent literary community here and our place in it.
This article is written by Neil Sorensen and Katrina Larsen, Alpha Alpha Psi Chapter, Hasting College in Nebraska. It is an update of the original article published in the High Plains Newsletter, fall 2007.