If this message is not displaying properly, click here to launch your browser.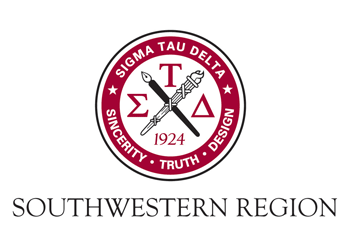 Dear Chapter Sponsors and Officers:
As you may know, the Southwestern Region will be holding an official meeting during the University of Central Oklahoma Language and Linguistics Student Conference on Saturday, November 3 in Edmond, OK. All Sigma Tau Delta members who can make it are encouraged to attend. The conference will run from 8 a.m. until approximately 4:30 p.m., and the regional meeting will follow immediately after.
Students who submitted to the conference should have received acceptance or rejection notifications earlier this month. Those planning to present need to send in their registration form and payment by October 15. Sigma Tau Delta members who present papers at the conference will be given forms at the regional meeting to request reimbursement of their registration fee. Students whose registration is being paid by their school are not eligible to be reimbursed.
Non-presenters are also encouraged to attend. All conference events are free and open to the public except the catered lunch. Students and guests who wish to may purchase a ticket to the lunch for $20, or they may leave campus during the lunch break and eat elsewhere. Those wishing to purchase a lunch ticket must do so by the October 15 deadline.
Chapter Sponsors who attend the conference and regional meeting may have their lunch tickets reimbursed. Sponsors must register and pay for the lunch by the October 15 deadline, and may apply for reimbursement at the regional meeting.
Immediately following the regional meeting, all Sigma Tau Delta members will be invited to join their Regional Representatives for dinner at an area restaurant. The dinner is optional and will not be reimbursed.
Anyone planning to attend the conference is encouraged to join the conference Facebook group. The group is an ideal place to ask questions of organizers and meet others who may be planning to attend. It is also a good place to find potential roommates for those staying overnight. The conference organizers have arranged for a block of discounted rooms at a nearby hotel. Reservations must be made by October 19 to take advantage of the discounted rate.
If you have any questions or inquiries, contact Lauren Brandeberry.
Ericka Hoagland, Regent
Katherine Williams, Student Representative
Lauren Brandeberry, Sigma Tau Delta Project Coordinator