Scholarships and Academic Awards
Scholarships and Academic Awards
Spring 2018 Round Scholarships are Open February 5.
Annually, Sigma Tau Delta offers a variety of scholarships valued at up to $5,000 each. Because these scholarship opportunities are offered exclusively to Sigma Tau Delta members, those members who take the time to submit a carefully put-together application obviously have a significantly increased chance of receiving an award and completing the application process is excellent practice for those planning to attend graduate school or apply for a job. Applications are judged based on academics and service, as well as on the quality of writing in essays or statements that are required for the scholarships.
Application Process
Sigma Tau Delta uses AwardSpring platform for the application process. Please use the AwardSpring link on the AwardSpring Applications web page to apply for scholarships, submit required materials, and request recommendation letters.
---
Scholarship and Academic Awards by Academic Level
Open to Undergraduate Students
William C. Johnson Distinguished Scholarship
Continuing Education Scholarship
P.C. Somerville Awards for Future Teachers
Study Abroad Scholarships (offered biannually)
Summer Program Scholarship (offered biannually)
Scholarly Paper Awards for Undergraduate Students
Open to Graduate Students
Continuing Education Scholarship
P.C. Somerville Awards for Future Teachers
William C. Johnson Distinguished Scholarship
Scholarly Paper Awards for Graduate Students
Open to Alumni Members
Continuing Education Scholarship
---
Deadlines and Award Notifications
Spring Round 2018
Application Dates
Junior Scholarships
Senior Scholarships
William C. Johnson Distinguished Scholarship
Continuing Education Scholarship
P.C. Somerville Awards for Future Teachers
Scholarly Paper Awards for Undergraduate Students
Graduate Scholarships
William C. Johnson Distinguished Scholarship
Scholarly Paper Awards for Graduate Students
Study Abroad Scholarship (applies to the 2018 calendar year)
Summer Program Scholarship (applies to summer 2018)
Application link opens February 5, 2018
Applications due April 9, 2018
Award Notification Dates
Study Abroad Scholarship and Summer Program Scholarship determined by May 17, 2018 
All other scholarships determined by May 23, 2018
Questions
Address questions to sigmatdapply@niu.edu
Printable Downloads [PDF]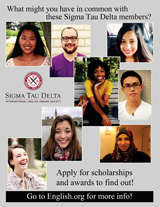 Scholarship Flyer (pictured above)
Blogs