Sigma Tau Delta 2023 Convention


Sigma Tau Delta will hold its annual convention in spring 2023. Convention is a truly wonderful event that allows hundreds of Sigma Tau Deltans from around the globe to gather in one locale, share experiences and ideas, be recognized for their achievements, and participate in the official side of the Society. At the convention, opportunities abound to meet face to face with other students, faculty, and respected authors, make new friends, discuss the disciplines of the English language and literature, and enjoy the offerings of the convention's location.
Dates and Location
Wednesday, March 29 - Saturday, April 1, 2023
Sheraton Denver Downtown Hotel
Denver, CO
Theme: Colorful Colorado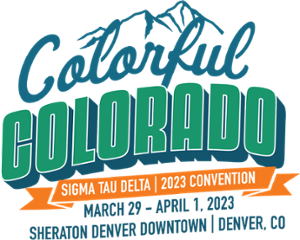 "Colorful Colorado" is, of course, a bit redundant as Colorado gained its name from being a place of beautiful colors: blue skies and waters, green fields and forests, snow-topped mountains and natural treasures. Colorado is home to some of America's most beautiful national parks: Rocky Mountain in the northeast of the state and Mesa Verde in the southwest corner of the state. Denver, the famous "mile high city" (stay hydrated!) has nearby attractions: Union Station, the Denver Zoo, and the Colorado Women's History Museum, among others.
2023 Author Spotlight
Our 2023 Convention is celebrating an author of color, American novelist Toni Morrison (1931-2019) with student papers written about her novels and by bringing to Denver the four authors of The Toni Morrison Book Club, a delightful blend of literary criticism, memoir, and personal anecdote written by four colleagues brought together to discuss Morrison's novels.
2023 Common Reader: The Rock Eaters
The Denver 2023 Convention features Brenda Peynado's wonderful short story collection The Rock Eaters. While these stories could be described as colorful, they can also be exhilarating, thought-provoking, and, at times, terrifying. They are best read with a buddy, so please persuade your friends to read The Rock Eaters and to chat about them with you in your chapters and in "Colorful Colorado."