Better World Books (BWB) Campus Textbook Drives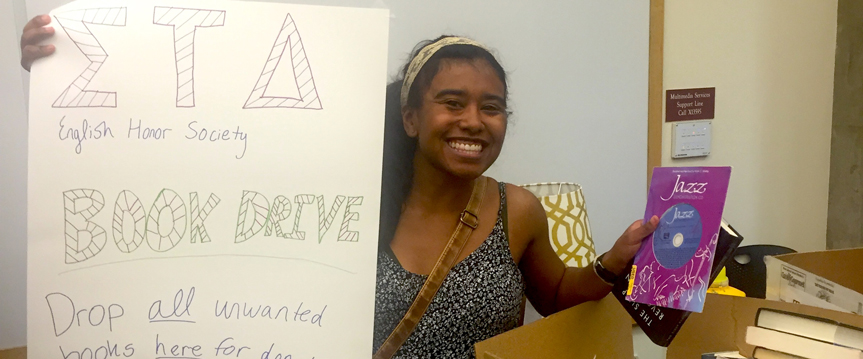 Better World Book Drives for Better Lives
Help break the cycle of poverty through education and literacy... while raising funds for your chapter!

Sigma Tau Delta partners with Better World Books (BWB) to provide an ongoing opportunity for chapters to participate in biannual book drives during the fall and spring semesters.
Every year more Sigma Tau Delta chapters are stepping up to provide their campuses with a socially and environmentally responsible outlet for textbooks through a Better World Books (BWB) textbook drive. The program is completely free to chapters and has raised more than 18 million dollars for non-profit literacy initiatives and libraries worldwide. BWB provides all the supplies needed for chapters to run a successful textbook drive (collection bins, posters, shipping boxes, and social media messaging strategy) and covers all shipping costs. The collected textbooks are shipped to the BWB warehouse and are listed for sale on over fifty online marketplaces. Textbooks we are unable to sell are donated or recycled. No books will be sent to landfills.
Campus Textbook Drive Webinar Presentation (.ppt)
2018-2019 Campus Textbook Drive Program
The Campus Textbook Drive program makes it easier for chapters to raise more money, help break the cycle of poverty through literacy, and make a larger environmental impact on campus!
Sigma Tau Delta chapters will earn $1.00 for every accepted book (A-List).
The A-List (Accepted Books)
You like A's and BWB does too. Here are the books that make the grade "Accepted" to list for resell online.
College textbooks and study guides (clean and readable condition) with copyright dates from the past 10 years. Please do not send course packets or custom publications.
Workbooks with no missing pages and no writing.
Any book used in a college classroom.
Notes: Highlighting and/or writing in books is fine, as long as text is not obscured. Accompanying CDs are great to send along as well, but they are not required. To make sure your effort pays off, minimize collecting books from the community, thrift stores, general bookstore, etc., as these books typically do not qualify as accepted books.
The D-List (Don't Send It)
D is for "Don't send, recycle!" No matter how hard you try people will donate books that are in poor condition. Books with these defects will not be accepted and should not be sent to BWB.
Moldy
Water damaged
Missing parts
Broken bindings
Instructors' Editions, Exam Copies, Review Copies, Free Copies
To recycle bad condition books locally, Better World Books recommends www.earth911.com.
Book Drive Shipping Dates
Fall Drive by Friday, December 14, 2018, for first semester credit
Spring Drive by Friday, June 14, 2019, for second semester credit
Exclusive Awards for Sigma Tau Delta
Receive the BWB Textbook Drive Project Award: The winning chapter receives a $100 donation, sponsored by BWB, to give to a charity of their choice. The award will be presented at the Sigma Tau Delta annual convention.


Top Five Chapter Collections for 2017-2018

Kappa Tau, Marian University, WI
Nu Xi, University of Indianapolis, IN
Beta Chi, Franklin College, IN
Alpha Epsilon Rho, University of the District of Columbia, DC
Tau Beta, Southeastern Oklahoma State University, OK
Environmental Impact
Since the start of our partnership with Better World Books campus drives (2009-2010 academic year), our participation has produced
Pounds of books diverted from landfills: over 200,000
Number of trees that waste diversion represents: over 2,500
Funds raised for literacy partners: over $12,000
Books donated to literacy partners: over 20,000
Every participating chapter receives an environmental report illustrating their chapter's environmental impact.
Literacy Impact
Five percent of the the net sales of the books collected and sent in by Sigma Tau Delta chapters are given to a Sigma Tau Delta's Literacy Service Project. The 2018-2019 Service project is Bookshare, a Benetech Iniative.
View the details of Better World Books environmental and literacy impact.
Start Your BWB Campus Textbook Drive Today!
Visit the Textbook Drive Resource Center.