Chapter Life: Campus Events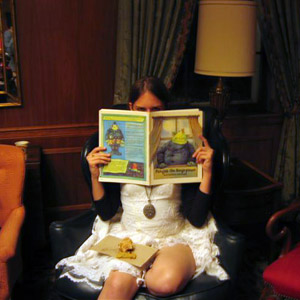 Campus events are intrinsic to the life of any chapter. Whether serious or silly, targeted at the chapter, the department, or the whole campus, these events can provide opportunities for fun and fellowship, promotion and recruitment, fundraising, service, and more. The possibilities for events are nearly endless, and the most interesting and successful events often combine complementary themes, but most fit into one or more of these categories. Suggestions for successful involvement and implementation follow.
Academic
Literary
Social
Competitions
Holidays/Special Occasions
Induction Ceremonies and Formal Events
Suggestions for Successful Events
More Ideas
Academic
Academic events include workshops, lectures, panel discussions, Q & A sessions, and other activities intended to educate the audience about a particular topic. Popular topics include graduate school, job opportunities for English majors, writing, editing, publishing, teaching, and standardized test preparation.
Literary
Literary events include open mic nights, poetry slams, marathon readings, author readings/book signings, performances of literary adaptations, and other activities that celebrate the written word, language development (both oral and written), and literature in translation.
Social
Fellowship and professional networking are among the primary aims of Sigma Tau Delta, making social gatherings a vital part of chapter life. Whether it's a raucous pool party or a quiet tea with faculty, getting together in informal social settings can strengthen relationships among chapter members and alleviate some of the stress of being an honors student.
Competitions
A little friendly competition can be an excellent way to get people excited about a topic, and competitions are also a great way to entice non-members to participate. Whether it's a casual Scrabble tournament or a formal writing contest for high school students, hosting a competition is a fun way to promote the chapter, provide a service to the community, and celebrate literacy.
Holidays/Special Occasions
Holidays provide convenient, fun, ready-made themes for events. Yet any type of event can be adapted to fit a holiday theme, such as a bad love poetry contest at Valentines Day, a panel discussion on censorship during Banned Books Week, or a social gathering to celebrate Shakespeare's birthday.
Formal Ceremonies
While service, fellowship, and fun are all vital to chapter life, Sigma Tau Delta's primary mission is to recognize achievement and excellence, and from time to time that requires a bit of pomp and circumstance. From new member induction to graduating senior recognition, ceremonies and other formal events are the best way to mark important milestones in a chapter's year.
Suggestions for Successful Events
Be certain to keep the Advisor well-informed about the plans for any event.
Make sure everyone from the chapter is invited to attend.
Consider extending specific invitations to faculty and administration, including fun events. They will think more favorably of the chapter if they are invited to do more than just donate money. Their attendance can enrich the occasion, and even if they don't attend, such invitations will help raise the profile of your group on campus.
ADVERTISE, ADVERTISE, ADVERTISE! On campus use flyers, posters, and email blasts. If the event is open to the community, look into whether local newspapers and radio stations have event calendars. To attract people from other schools, let the Regent and Student Representative know what the chapter is doing so they can promote it throughout the region. Don't forget to take advantage of social media too!
Be sure any speakers you select are comfortable with, and well-informed about, the topic. Let them know whether or not the program format will include Q & A, and what your expectations are for their presentation. Provide an approximate length of time you're expecting of them. And let them know if they are alone on the program of if others will be presenting.
Inform presenters about the overall flow of the program and when they will be speaking during that time. Provide them with contact information (name, phone number, etc.) in case they have questions or concerns.
When using an off-campus site for an event, secure full permission to use all the necessary facilities. On campus, check to see if reservations are needed.
Choose a room large enough, easy to find, and one that has a controlled climate. The room should be appropriate for and conducive to the activity. Does it have tables for workshopping? Is there a lectern? A/V equipment for a PowerPoint presentation? Are there noise considerations? Will guests be able to find nearby parking?
Set up enough chairs in advance so there will be no interruptions during the event.
Provide refreshments during or after your activity. Free food and beverages help attract students and provide a good opportunity for socializing.
Get more ideas by reading these chapter stories.
"March Madness, English Style"
"Alpha Iota Omicron Chapter Update"
"Scream Slam"
"Crossing Cultures: An International Chapter Explores the Common Reader"