Another Good Reason to Attend the Next Sigma Tau Delta Convention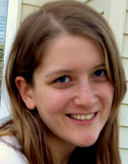 We were lucky. After navigating through crowds of pushy people, we achieved the dream—four front row, center seats. But just as we settled down, the crowd rose to their feet in an explosion of thunderous applause. The guest of honor had arrived.
Running down the middle aisle, our guest grabbed high fives from star-struck audience members and then leaped triumphantly on stage to receive a standing ovation.
"Alison Bechdel, everyone!"
Perhaps this is not the expected reaction to a woman who writes avidly about her troubled relationship with her parents (did you think Jay-Z was in the building?). However, with a critically acclaimed comic strip and two graphic memoirs underneath her belt, Bechdel has clearly gained the admiration of the public. In fact, she's the next big thing.
In case you are not familiar with this rising star, Bechdel is an artist, writer, and a keynote speaker for the 2014 Sigma Tau Delta Convention. She is the author of the critically acclaimed graphic memoirs Fun Home and Are You My Mother? as well as the syndicated comic strip Dykes to Watch Out For. Dykes appeared regularly in over 50 publications across North America, Fun Home was named Best Book of 2006 by Times Magazine, and Bechdel herself was recently awarded a Guggenheim Fellowship. Are you in awe yet?
Most important, though, is the power of her work to amuse, move, and satisfy the reader. Bechdel's combination of deeply intimate reflections of her past and astonishingly detailed artwork create complexities for our minds and poignancy for our hearts. By writing truthfully about the painful and awkward moments of her life, Bechdel has given not only herself but also her readers an incredible sense of catharsis.
And for someone who spends so much time perfecting her work, she certainly shines on stage. Much like her books, Bechdel's presentation will have you laughing, crying, and wishing you had half her talent. Make sure to catch her keynote speech at the next Sigma Tau Delta Convention. Trust me, you will not want to miss this.