Sigma Tau Delta's Friends in Kuwait
The American University of Kuwait's (AUK) Sigma Tau Delta chapter, Alpha Rho Eta, has encountered several logistical challenges in promoting English studies as a major. As a university where reading is generally unpopular and most students would prefer a business or graphic arts major, English majors are few and far between. When the number of active chapter members dropped from its high of twelve to its low of three, something had to be done. That's when the idea for the "Friends of Sigma Tau" emerged. Referred to lovingly by inducted chapter members as the Friends, their participation has allowed the chapter to thrive.
"We get by with a little help from our friends," joked Faculty Sponsor Kathy Nixon as she sung a line borrowed from The Beatles 1967 hit. She readily admits "having a vibrant chapter in Kuwait takes a great deal of work. In a culture that does not privilege reading and in a country where English is not the native language, we have to be very creative to meet the assorted challenges to having a high functioning chapter. The Friends is a solution that worked for us this past semester."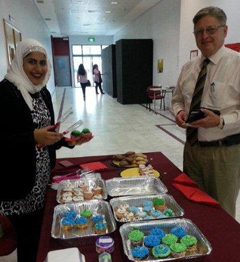 As support members for the honor society, these students help host events with Sigma Tau Delta members while they work to achieve eligibility requirements, such as GPA or courses in English other than freshmen composition, to be inducted fully into the chapter. Friends attend meetings and are recognized locally only. While they can help the members ready their conference papers by listening to their presentations or prepare their journal submissions by helping them edit, they are not eligible for that level of national participation in Sigma Tau Delta themselves. Yet. The goal is to be inducted formally within a semester or two. Meanwhile they learn all about the honor society as they participate locally.
"It is important that those who join are active since our department is so small," Nixon said. "We probably have around 50 majors and many, not all, are only English majors because it is required by their scholarships."
AUK acquires many of its English majors differently than other universities. In Kuwait, the government gives scholarships to students, who then have to choose from required majors. Students with the top GPAs are allowed to receive scholarships first and often want business majors. Students with lower GPAs from high school must wait to choose majors. By the time many of them can receive their scholarships, the more popular selections are gone and English is one of the few majors left. Students who are forced into the major do not necessarily enjoy the discipline or choose to participate in extracurricular activities to promote it.
To be a Friend in good standing with the Alpha Rho Eta Chapter, students must be an English major or minor, have a 3.0 GPA, secure recommendation letters from two English faculty members, and promise to participate in all events in some manner. For example, during the recent bake sale to raise travel money for the honor society, the Friends either helped staff the table or baked treats for the event. Friends may miss only one event and stay in good standing.
Obviously, it is harder to become a Friend than a member. But the chapter members who set the requirements for the group decided that strict rules will help make a stronger chapter. There is a problem at AUK with students signing up for clubs and then never participating. When membership requirements are high, those who bother to sign up usually decide to show up. Members who are Friends first will have learned what it takes to be a member and since they have worked hard to be inducted, they will be invested in the honor society. That is the theory. We started the group in the spring 2013 semester with three members and another three identified to be invited in the fall semester. Now the chapter must wait to see if the Friends are eventually inducted as members. If the Friends option proves to be a long-term solution to increasing committed membership remains to be seen. But it did double the size of the chapter and gave the honor society the boost it needed to have a successful spring calendar of local events.
As anticipated, the Friends take their participation seriously. When one Friend, Hiricinth Buckmore, could not physically be at the bake sale, she sent her daughter to take her place—making her daughter our unofficial friend of a Friend. While Buckmore and all of the Friends take their roles in the chapter seriously, one particular person shines above the rest. The members have asked this person to serve as the chapter's next president. In the fall 2013 semester, Reem Al-Hasawi will be president and train an inducted member to take her place the following semester when graduation from AUK will bar her official induction.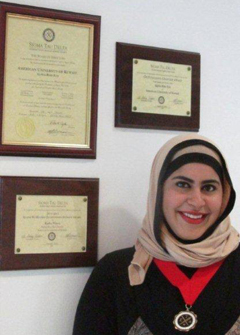 "I am really happy to be a Friend," said Al-Hasawi, who has never missed an honor society event since joining. She arrived at the university early for the last Common Reader event to help set up the picnic area. She peddled cupcakes at the bake sale so honor society members could pay for transportation from the airport to the hotel for the Portland convention. She collected, boxed, and transported donated books for the book drive we hold each spring to benefit hospitalized children who are assisted by the Kuwait Association for the Care of Children in Hospital (KACCH). She designed flyers for all of the spring events. Any time Sigma Tau Delta held an event, Al-Hasawi was there as much as some inducted honor society members and more than others.
"I am honored that I was asked to be president in the fall and I am looking forward to the challenge," Al-Hasawi said with a smile.
Immediate Past President Ayat Al-Bloushi had nothing but praise for the Friends in general and particularly for Al-Hasawi. "We could not have made it without Reem. It was a pleasure working with her," said Al-Bloushi. "She is great and deserves to be president and lead the honor society locally. She is very dedicated."
Al-Hasawi will take over a chapter with more Friends than members. But everyone is counting on that changing with spring. Until then Al-Hasawi will file the paperwork with the university to register the group on campus, lead the group in choosing a theme for the Common Reader in the spring, and perhaps plan a fall event.