The President's Corner

Bibliophile
Bibliophile. Say it with me, bibliophile. The word feels luscious as it rolls off the tongue. Even when you simply think the word, you see the satisfyingly round shape of its letters. It has power. I hazard a guess that almost without exception, anyone reading this article could append this moniker to their proper name. Sarah Dangelantonio, Bibliophile. William C. Johnson, Bibliophile. Timothy Leonard, Bibliophile. What is it about books that make our eyes light up and our hearts beat a little faster? What makes us revel in the pleasure of passing our eyes over words? What fuels our love?
Some of my earliest memories are associated with books. I remember my father reading to us each night before bed. He worked long hours and it was the one time during the day that we were guaranteed time with him. I close my eyes and can hear his voice reading from To Think That I Saw It on Mulberry Street. I have vivid images of going to the library with my mother (she's probably the most voracious reader that I know) and checking out ten or more books at a time—the librarian never enforced the maximum book policy with me, my sisters, or my mother. I would walk out of the library doors proudly carrying my weekly haul as if bearing The Holy Grail. Those weekly library visits were some of the most highly anticipated moments of my childhood. And don't get me started on the library's summer reading program. I would hit the minimum number of required books within the first week.
Of my own children, I would only classify one as a bibliophile. Even today, our town librarian gets almost giddy when my daughter comes in to check out books; she says that Liz's reading habits make a noticeable bump in the circulation statistics. Of the others, one certainly enjoys reading (though he's not compelled to do so like his sister) and the third is, at best, a reluctant reader. All three began as bibliophiles, all three had bookshelves in their rooms, and all three were read to every day (sometimes many, many times) and every night. I can still recite from memory Goodnight Moon, and Jamberry, and Marvin K. Mooney, to name a few of the popular titles.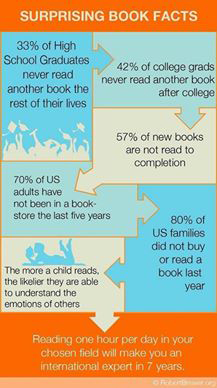 So, what gets us hooked? And what keeps us hooked? I wish I had the answers. Almost every child I have known began as a bibliophile, looking forward to reading circles in kindergarten or free reading time in second grade, or the distribution of the scholastic book sales flyer. But something happens to some of them. For some it's fairly soon, and before long, books no longer hold magic. For others, it comes a little later, when the books they are required to read get longer or simply have the word "required" attached. I can't imagine, for myself, not wanting to read, not wanting to have a book next to my bed and on the table next to the couch, and on the sill above the window seat, and on the seat of the car—you get the picture—but there are many non-readers or reluctant readers around us.
Is there anything that we, members of an honor society that cites as one of its missions promoting interest in literature and the English language, can do to encourage reading, especially by those who are reluctant or non-readers? I think we must try. Even small gestures seem to me worthwhile. Why not leave a copy of a good read at your reluctant-reader friends' homes when they aren't looking? Or buy a copy of a childhood favorite and gift it to a child you know who doesn't read or whose family can't afford the luxury of a book. Take a child to the library as part of a special day out and get him a library card if he doesn't already have one. Post a great passage from what you're reading as a Facebook status, and be sure to include the author and title.
Participate in a literary event, like being a book giver and passing out books on World Book Night or buying a copy of this year's Read for the Record children's book (it's Loren Long's Otis by the way) and donate it to your local elementary school. Do you have a niece or nephew or god-child? Why not call them one night a week and read to them over the phone? Have an extra mass-market paperback? Put a note on the cover saying "Please take this book and pass it on when you're done" and leave it on the bus stop bench. The smallest of efforts may be all that's needed to remind someone that once upon a time, she, too, found magic in the written word.